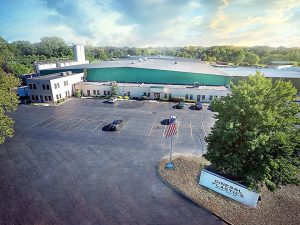 Since 1976, Dinesol Plastics has dedicated its operation to supplying World Wide Customers with Leading Thermoplastics Solutions. Our Team is dedicated to providing solutions to our Partners at any step of their development process. These solutions include, thinking, inventing, designing, tooling, manufacturing, assembling, and logistics services. Our Team is dedicated to ensuring your team wins. We do this by creating total lower cost solutions delivered when you want them.
We are strategically located in Northeast Ohio. Our location is optimal for serving many markets across North America.
Let our manufacturing horsepower become your manufacturing horsepower. Our resources include nearly 500,000 square feet of manufacturing and logistic service space, 4,000,000 lbs of rail and silo support, 50 Ultra-Modern Injection Molding Machines ranging from 17 ton through 3000 ton and 6 and 7 axis articulation robots all supported by our operational foundation ISO 9001:2015 certification.
Please continue looking through our website to learn more detail about our Company.